Animal Crackers Dog Training
We are pleased to offer that Animal Crackers offers private dog (and cat) training! 
Meet our trainers- Miriam and Michaella!
Miriam is a CPDT-KA certified trainer that works with dogs (and cats!) covering basic life skills, to problem behaviors including; dog or people reactivity, arousal issues, or fear based behaviors. She uses a science and reward based approach, focusing on building handler skills and their relationship with their canine and feline companions. She also believes that having mental enrichment present in the daily lives of dogs and cats alike, not only improves the human-animal bond, but can be fun, cost effective as well as a vital part of having a healthy animal. She is a huge advocate for owners with dog reactive dogs, and strives to build a compassionate community that supports dog owner's on their journey to help their dog overcome their reactivity issues. Miriam has experience with training dogs of all different breeds and training needs - she currently has 5 dogs of her own, including a Great Dane, Two Chihuhua mixes, an Australian Shepherd mix as well as a Terrier mix! 
She continually encourages her clients to focus on setting their dog up for success, listening to the animals' needs, and to enjoy the training journey instead of focusing solely on the end goal.The core of her training is centered around reading and interpreting body language and adjusting the training to ensure the animal is enjoying the experience. 
Miriam completed her Bachelor of Science degree in Animal Science in Spring of 2017 at Oregon State University and she received her Certified Professional Dog Training-Knowledge Assessment in 2017. She worked at a local humane society in the Enrichment & Training Department for two years and is our current dog (and cat!) trainer here at Animal Crackers. Not only does she have a background in training, but she also has a passion for horseback riding and has a love for pocket pets. Miriam has a wealth of knowledge and is eager to share her experience with clients.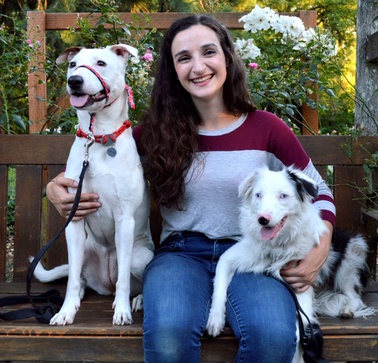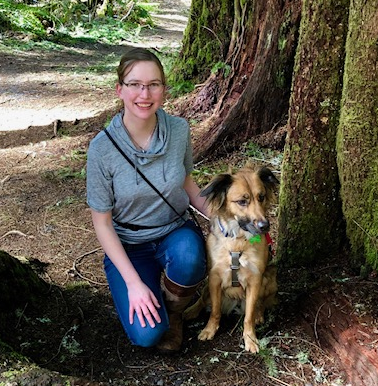 Michaella Boyd, CCDT, CPDT-KA, SDC, has been at Animal Crackers Pet Supply since March of 2018. She brings a wide range of knowledge and talent to the staff and strives to continue her education on science and reward-based training methods. Michaella received her formal canine training education from CATCH (Canine Trainers Academy), graduated the program in 2017 and has been a Certified Professional Dog trainer with the CCPDT since 2017. She recently furthered her education by going through the Cooperative Paws Service Dog Coach certification course in 2018. Michaella worked in the Enrichment & Training Department at a local Humane Society from 2015 to 2018. There she worked with both shelter and client dogs with various training and behavioral challenges. She is well versed in dog and/or people reactivity, basic manners, tricks, and more. She currently has a 11 year old beloved Chocolate Labrador Retriever named Hershey as well as a 2 year old Shepherd mix named Hopeful.
~~~~~~~~~~~~~~~~~~~~~~~~~~~~~~~~~~~~~~~~~~~~~~~~~~~~~~~~~~~~~~~~~~~~~~~~~~~~~~~~~~~~~~~~~~~~~~~~~~~~~~~~~~~
Miriam & Michaella currently offer private lessons in the home as well as most dog friendly public spaces. One benefit of taking a private lesson is that you receive the training assistance you need, in the place where the problem behavior occurs the most! While group classes are always encouraged and recommended, they may not always meet the needs of the owner or the dog- taking a private lesson can help bridge any gaps in the owner's skill building and education.
Some examples of where private training can take place include;
In your neighborhood (to work on reactivity or loose leash walking)
Downtown (to work on stay, or working in a high distraction environment)
Local hiking trail (to work on come when called!)
To get started on reaching your training goals please contact Miriam and Michaella at: training@animalcrackerspetsupply.com